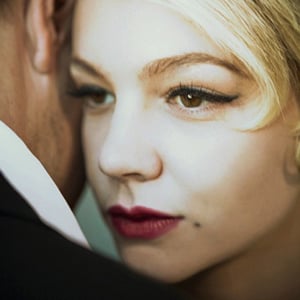 By now I'm sure you will have seen or at least heard about Baz Luhrmann's adaptation of The Great Gatsby, controversial as the film may be, it has got everybody talking and yearning for a modern day touch-of-the-twenties. The release of the film has lead to a surge in 20's inspired fashion filling the high street and some pieces even finding their way down the red carpet. Gatsby fever is in full swing so naturally, I had to see the illustrious film for myself.
Now, I have no intention for this post to become a review (even though that looks where I'm headed...) but I shall say that I really did enjoy the film. The clothes were glamorous, the parties outrageous and story line despicable. The only problem I had with Gatsby was the crazy camera angles that seemed to change every few seconds, however this did calm down a bit as the film went on. After leaving the cinema I was left with a nostalgic rush for an era I never lived to see. So the next morning I decided to become Daisy Buchanan for the day, and this is what happened...
Please excuse the dreadful bags and poor poses, exams are only just over and I really don't enjoy being in front of the camera, it's not something I'll grow accustomed to quickly. If you're the adventurous kind you could create a faux bob and jazz it up with some beaded or floral hair bands, unfortunately I didn't have any to hand.

Oh and before you all start thinking that I'm a fan of Daisy Buchanan, let me assure you I'm not, she really is the most snakelike character I've ever encountered But then again, where was it ever written that book characters had to be likeable?
I decided to keep my face quite pale in keeping with Daisy's, using my Estee Lauder double wear foundation and Laura Geller brightening powder to set. Although in the promo picture above, Carey Mulligan isn't wearing eyeshadow, throughout the film she does wear a subtle touch of brown to add depth to her eye socket, so I thought I'd incorporate this into the classic winged eyeliner look pictured above, although instead of using a black eyeliner and softening the harsh black line I chose to use a grey liner instead. I am also wearing NARS flair on my lips.
If you'd like to hear in more detail about how to recreate this look then let me know. Also If there are any other make up looks you'd like to see (maybe a celebrity or character?) comment and let me know who you'd like to see.

Have you seen the film or read the book and how do you think the two compared?
P.S Don't forget to follow me on bloglovin' be clicking here as google reader is going soon!